Apple's New Reitna Display Macbook and IOS 6
Apple's New Macbook Pro and IOS 6 Features
WWDC 2102 - At the arena of tech gadets Apple introduced the new version of Macbook and displayed for the first time their IOS 6 version of OS. Apple uncovered and proved many rumors to be true by introducing a new range of hardware and software versions of their products.
Apple announced a upgradation to their macbook pro and macbook air. The main points of interest were the newly developed next generation Mountain LION and mobile OS IOS 6. Apple announced that new MOUNTAIN LION OSX will be available in mid of july as a free downloadable product from MAC store. Apple excited the audience with more info about the new IOS 6 mobile OS that will be available to iphones, ipads and ipods near around end of september this year.
FAST AND LIGHTER MACBOOK's
Apple's range of Macbook Pro and Macbook Air recieved major upgrades. The entire series has been updated with latest processor technology from intel and graphics from Nvidia GT series. Processor used for Macbook Air is intel third generation Ivy bridged processors. New 13 inch Macbook Air and Macbook pro will be stuffed with intel dual core i5 or i7 processor and 15 inch Macbook Pro will come with quad core intel i7 processor. There will be 720p front facing camera all Macbook's with two 3.0 USB ports.
MACBOOK AIR
In oder to reduce the competition Macbook Air will now cost lower than the last one with more features. The price on all models has been reduced by around $100. Macbook Air is now i think affordable.
MACBOOK PRO
All models will now come with enhanced graphics capability and much higher resolution retina display. The graphics quality has measured to be improved by 55%.
The new 15 inch Macbook is fast enough with its Flash Storage and apple has entirely moved away from mechanical hard disks storage. The new Macbook Pro with weight of around 4.4 pounds and ultra thin intel processor will now compete with its own little brother Macbook Air. The retina display of Macbook Pro is 2800 X 1800. This seems to be the highest resolution notebook ever built and with around 5040009 pixels. This dense display shows 220 ppi.
Over all the graphics are provided by Nvidia with the GT series of card. The grapghics used here is Nvidia GT650M. The Macbook Pro with retina display has been stuffed with latest intel core i7 processor with 2.7 GHz that can be boosted upto 3.7 GHz. USB ports include two thunderbolt ports and a new HDMI port for connecting HDTV's. There are two USB 3.0 ports available on Macbook Pro. Macbook Pro supports 16 GB RAM and 768 GB Flash Disks.
The new flash drive technology helped a lot in decreasing the weight of Macbook Pro. These drives can perform 4 times faster than traditional mechanical hard drives. Flash storages are faster than hard drives and can play several HD videos at the same time. Standby time and reliabiltiy also increased due to Flash Storage.
Mobile OS IOS 6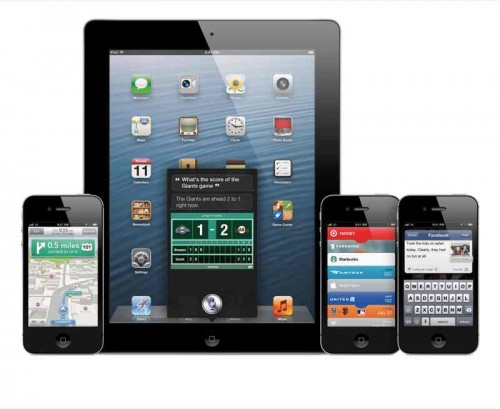 IOS 6 has just been announced yet but made sure that will be available soon. Apple's new mobile OS IOS 6 will support several new features that will make your day to day operations easy and fast. It's not a wait of years it will be very easy to upgrade to IOS 6 wirelesly as soon as it is available.
MAPS
The  maps included in this IOS 6 are entirley different and Apple has dumped Google Maps for iphone and ipads. Maps helps you with spoken directions and 3d view of places.
The screen turns into 3D view and directions are been dictated to you so that you can keep your eyes on the road. As you procedd with directions the road shows you 3D view of streets and highways to navigate easily.
TRAFFIC
Maps give you real time traffic updates for example by showing that rerouting will save time upto 6 minutes because of traffic jam or high traffic.
 View major areas of cities with 3d view with high definitino realistic display. You can zoom, tilt and rotate around the city.
SIRI
The new IOS 6 features major updates with siri and maps. Siri supports new features and can listen many languages with sports news and movie listings. Siri now supports Spanish, Mandarian, Italian, Korean and Cantonese.